About the Director

Ballet Montana director Sallyann Mulcahy fell in love with ballet when she was five, attending classes in Helena and Missoula before leaving home at 14 to train on full scholarship at the Banff School of Fine Arts in Alberta, Canada. While there she met Betty Farrally, co-founder of Canada's Royal Winnipeg Ballet, from whom she received full-scholarship admission to the Canadian School of Ballet in Kelowna. Two years later Arnold Spohr, renowned director of the Royal Winnipeg Ballet, invited her to train in the company school's professional division under director David Moroni.
At 18, Sallyann took stage with the Royal Winnipeg's corp de ballet, and in her first year was performing soloist work. Eventually she traveled east to join Finis Jhung's Chamber Ballet USA in New York, and New Jersey Ballet under founding director Carolyn Clark. New York Times dance critic Jack Anderson wrote of her dancing:
The evening's most striking dramatic performance was that of Sallyann Mulcahy in 'Le Combat,' William Dollar's ballet about a duel between a Christian and a Saracen warrior during the Crusades. When the Saracen's helmet is removed, the knight is revealed to be a woman. Looking fierce and taut, Ms. Mulcahy commanded the stage, proving a formidable opponent to the elegant Shi Hui, who portrayed the Crusader who came to realize that he loved her.
Sallyann returned to Montana in 1991 and accepted an adjunct-professorship at Carroll College in Helena. While creating and maintaining a college dance program and instructing career-oriented ballet students, she founded Montana's first and only professional ballet company. From 1995 through 2012, ballet dancers employed by companies across North America traveled annually to Montana to train and perform under her direction.


May 2012 Dance/Dance Teacher Magazine
About Ballet Montana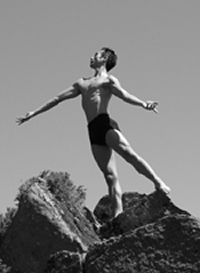 Ballet Montana began as Artisan Dance in 1995. It was Montana's only professional ballet company, in residence at Carroll College in Helena, with over 60 performing members employed by established companies throughout the United States and Canada. Ballet Montana provided a unique training ground for performers of high caliber by offering continued development and refinement of their technical and artistic skills: a level of training the director, Sallyann Mulcahy, calls denouément.
For 18 years, Ballet Montana presented professional dance performance while educating audiences of all ages about the art of dance at a level rarely found in a cultural outpost such as Montana.
Ballet Montana explored the relationship between traditional and contemporary forms of dance by introducing original ballet works, more than 50 of which were choreographed by Ms. Mulcahy. Collaboration with other performing and visual artists broadened this experience and presentation. Ultimately, for nearly two decades Ballet Montana presented a complete spectrum of dance exposure, enhancing the national American dance identity.
Ballet Montana was nationally trademarked in 2010, and currently maintains its 501(c)3 nonprofit organization under the name Ballet M, Inc.